<< Back to the home page
---
Teaching modules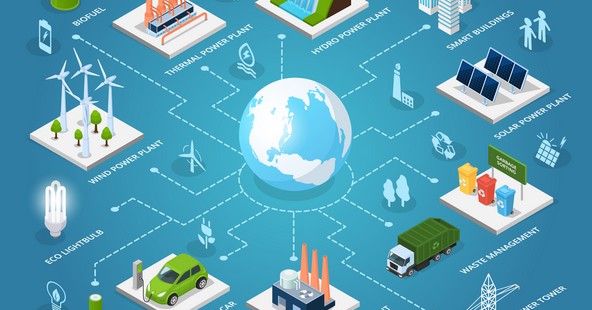 Category: Doktorski studij
The teaching structure of the doctoral study programme consists of modules, which makes it easier for you to recognize you research interests. Each module is run by a head.
You can choose 1 obligatory and 1 out of seven elective courses at the study level.

There are 5 elective modules:
1 Sustainable Waste Management
2 The Environment and Nature
3 Environmental Geoengineering
4 Water Management
5 Energetics



Within 5 modules that are offered, with the permission of the head of the studies, students enrol in 4 courses. Besides courses from only one module, you can choose courses from all other modules and in that way you determine the structure of the teaching part of the doctoral study programme.
---
Obligatory course at the level of the study programme
Methodology of Writing a Scientific-Research Paper
Course professor(s) (associates): Božičević
Teaching hours: 30L
ECTS: 5
Elective courses at the level of the study programme
Environmental Management
Course professor(s) (associates): Koprivanac / Anić Vučinić
Teaching hours: 45L
ECTS: 4



Environmental Economy
Course professor(s) (associates): Koprivanac (Šimurina)
Teaching hours: 45L
ECTS: 4




Environmental Protection Policy
Course professor(s) (associates): Tišma (Boromisa)
Teaching hours: 30L + 15E
ECTS: 4



Moral-Ethical Approach to the Environment
Course professor(s) (associates): Matulić
Teaching hours: 30L + 15E
ECTS: 4



Ecological Models
Course professor(s) (associates): Kovač S. / Kovač I. / Rumenjak
Teaching hours: 35L + 10E
ECTS: 4



Corporational Systems of Environmental Management
Course professor(s) (associates): Koprivanac
Teaching hours: 45L
ECTS: 4



Communication and Education in Environmental Protection
Course professor(s) (associates): Anić Vučinić (Premur)
Teaching hours: 30L + 15E
ECTS: 4

Sustainable Waste Management

---




Circular Economy in Waste Management
Course professor(s) (associates): Anić Vučinić (Premur)
Teaching hours: 30L + 30E
ECTS: 5



Mechanical-Biological Waste Treatment and Permanent Waste Disposal
Course professor(s) (associates): Petrović
Teaching hours: 15PL+ 45E
ECTS: 5




Waste Management in the World
Course professor(s) (associates): Kalambura
Teaching hours: 30L + 30E
ECTS: 5



Energy Recovery and Thermal Waste Disposal
Course professor(s) (associates): Šarc
Teaching hours: 45L + 15E
ECTS: 5



Recycling and Disposal of Polymers
Course professor(s) (associates): Ptiček Siročić
Teaching hours: 30L + 30E
ECTS: 5

The Environment and Nature

---




Habitats of Croatia
Course professor(s) (associates): Stančić
Teaching hours: 10L + 50E
ECTS: 5



Ecological Engineering
Course professor(s) (associates): Stančić
Teaching hours: 10L + 50E
ECTS: 5




Environmental Forensics
Course professor(s) (associates): Kniewald (Kovač I.)
Teaching hours: 45L + 15E
ECTS: 5



Sensors for Environmental Protection
Course professor(s) (associates): Sakač / Lobnik
Teaching hours: 30L + 30E
ECTS: 5



Remediation of Contaminated Soil
Course professor(s) (associates): Kisić (Zgorelec)
Teaching hours: 30L + 30E
ECTS: 5



Air Quality Management
Course professor(s) (associates): Klasinc (Herjavić)
Teaching hours: 45L + 15E
ECTS: 5



Green Analytical Chemistry
Course professor(s) (associates): Sakač / Šarkanj
Teaching hours: 15L + 45E
ECTS: 5



Ecotoxicology
Course professor(s) (associates): Klobučar
Teaching hours: 30L + 30E
ECTS: 5

Environmental Geoengineering

---




Subsurface Exploration
Course professor(s) (associates): Strelec / Gazdek
Teaching hours: 30L + 30E
ECTS: 5



Geophysics in Environmental Engineering
Course professor(s) (associates): Strelec / Gazdek
Teaching hours: 30L + 30E
ECTS: 5




Geotechnology in Environmental Engineering
Course professor(s) (associates): Kavur / Kovačević Zelić
Teaching hours: 45L + 15E
ECTS: 5



Environmental Protection during the Exploitation of Mineral Raw Materials
Course professor(s) (associates): Mesec
Teaching hours: 30L + 30E
ECTS: 5



Satellite Missions
Course professor(s) (associates): Hećimović / Rezo
Teaching hours: 30L + 30E
ECTS: 5



Geotechnics of Environmental Engineering
Course professor(s) (associates): Ivandić
Teaching hours: 30L + 30E
ECTS: 5



Urban Mining
Course professor(s) (associates): Kortnik
Teaching hours: 30L + 30E
ECTS: 5

Water Management

---




Impact of Climate Change on Water Systems
Course professor(s) (associates): Biondić, B. / Pandžić / Pašičko
Teaching hours: 30L + 30E
ECTS: 5



Management and Protection of Water Resources
Course professor(s) (associates): Biondić, R. / Meaški
Teaching hours: 30L + 30E
ECTS: 5




Environmental Hydrogeology
Course professor(s) (associates): Meaški / Biondić, R.
Teaching hours: 30L + 30E
ECTS: 5



Isotopic Hydrochemistry
Course professor(s) (associates): Kapelj / Horvatinčić
Teaching hours: 30L + 30E
ECTS: 5



Water Quality in the Environment
Course professor(s) (associates): Loborec
Teaching hours: 15L + 45E
ECTS: 5



Urban and Rural Water Systems
Course professor(s) (associates): Đurin
Teaching hours: 15L + 45E
ECTS: 5



Preparation of Water for Human Consumption
Course professor(s) (associates): Šiljeg
Teaching hours: 30L + 30E
ECTS: 5



Impact of Extreme Hydrological Events on the Environment
Course professor(s) (associates): Biondić, D.
Teaching hours: 30L + 30E
ECTS: 5

Energetics

---




Geothermal Energy
Course professor(s) (associates): Golub / Kurevija
Teaching hours: 30L + 30E
ECTS: 5



New Technologies of Renewable Energy Sources Course professor(s) (associates): Pašičko / Đukić
Teaching hours: 30L + 30E
ECTS: 5




Financing of Renewable Energy Sources and Energy Efficiency
Course professor(s) (associates): Pašičko
Teaching hours: 30L + 30E
ECTS: 5



Sustainable Urban Planning and Low-Carbon Urban Development
Course professor(s) (associates): Lisac
Teaching hours: 30L + 30E
ECTS: 5



Energy in Buildings
Course professor(s) (associates): Žakula
Teaching hours: 30L + 30E
ECTS: 5



Environmental Thermodynamics
Course professor(s>) (associates): Golub / Kurevija
Teaching hours: 30L + 30E
ECTS: 5

---