<< Back to the home page
---
Basic of Python programming through Hydrology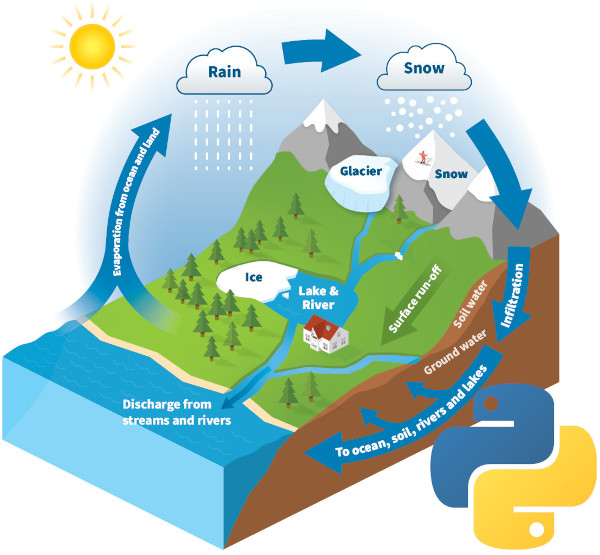 Category: Projekti
Through this summer school you will learn the first steps of programming in the Python programming language, through interesting examples from Hydrology.
Teacher: DSc Karlo Leskovar

Target group: technical college students, high school seniors, anyone who wants to start programming
Short description:
The goal of this summer school is to introduce students to the basics of Python programming and to provide a framework on how to easily replace spreadsheet programs. It will be shown how to load, analyse and print the actual hydrological data in a diagram. In addition, a basic prediction model based on linear regression, polynomial regression, the K-nearest neighbours method, and Decision-Tree methods will be developed. The developed models will be evaluated to determine their accuracy.
Curriculum:
A brief introduction to Hydrology and the Python programming language
What is Hydrology?
What is Python?
Installing the necessary tools - setting up the Python development environment
Jupyter Notebook and Anaconda (cell types in the Jupyter Notebook, introduction to the interface)
Starting the first program (script)
Basic data types in Python
Strings (words, letters)
Numbers (integes, floats, doubles)
Variables
Data Structures
Control flow and loops
If-else
for loop
while loop
Functions
NumPy i Pandas libraries – working with arrays and table data - loading files (.csv, .xlsx)
Basics of diagram plotting– matplotlib.pyplot
Line plots
Scatter plots
Bar plots
Combined plots
Fundamentals of machine learning - regression methods - scikit-learn library
Linear regression
Polynomial regression
K-neighbours
Decision Tree
Evaluation methods – MSE, MAE, r2


---

Linked Documents: